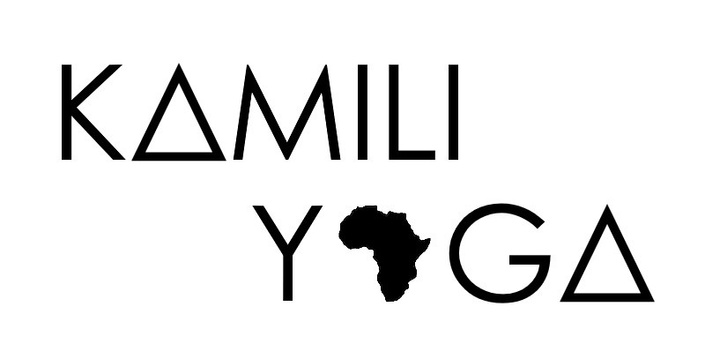 About the Collective
This virtual platform is for students to engage in interactive and self-paced study of the core tenets of Kamili Yoga™ and Pan-African knowledge. Dedicated students of the Kamili Collective will work toward becoming certified as Kamili Yoga™ Community Leaders so that they can use their experience of the system to teach its practice and benefits to their local communities.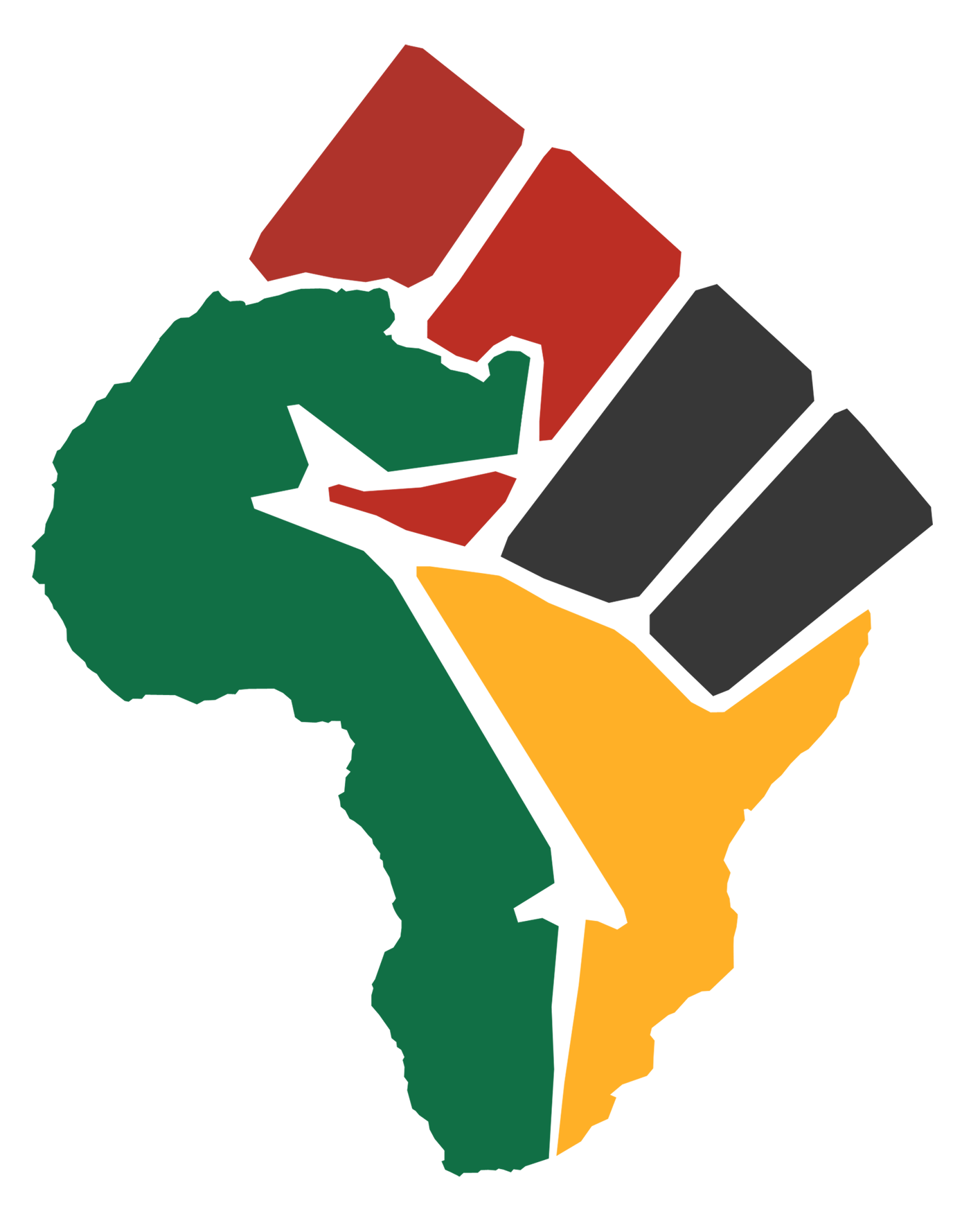 Membership to the Kamili Collective is not about being in a temporary "yoga teacher training" program where once you complete it you're on your own. The Kamili Collective is a lifelong community of like-minded and like-hearted Black yogis who continuously encourage, support, and hold space for each other on their holistic wellness journey.
Eternity's Teaching Philosophy
Many wellness instructors and Yoga spaces, both physically and virtually, present an air of false perfection and enforce constant "love and light" positivity. Many of their lessons are surface and shallow, minimizing Yoga to mere exercise and teaching only the trendy basics of wellness. This does a disservice to students who want more in their lessons.
As I teacher, I am different because I do more than instruct . . . I educate. I delve deeper and challenge my students to go beyond the superficial. I am different because I teach Yoga and wellness in a way that is socially conscious, trauma-informed, and honors the cultural fullness of the practices. I am different because I believe that we need to make space for being imperfect people in an imperfect society, that we need to acknowledge the shadows within us as well as the light, and that we need to learn how to be comfortable with discomfort.
But most importantly, I am different simply because I am me. I give my students my most genuine Self. I make space to be all of who I am so that I can hold space for all of who you are. That difference is how I can help you grow into who you want to be.
The Cost & Benefits
The membership cost for the Kamili Collective reflects a delicate balance between accessibility and premium value. The investment to join this platform is $3,600, with multiple payment plan options starting as low as $150 a month. This cost isn't just to receive the certification . . . it is for a lifelong membership to everything the collective offers! Your membership to the Kamili Collective grants you:
A supportive community to foster healthy connections with other Black yogis
Empowering mentorship coaching on growing into the yogi you want to be
Weekly live and interactive community practice of Kamili Yoga™ flows
Bi-monthly live and interactive group teachings and community discussions
Access to recorded replays of all live sessions for individual study and review
Curated third-party educational content on Pan-African culture and history
Special discount for one-on-one virtual coaching sessions
Special discount for the Kamili Yoga™ Student App
About the Training

---
The Kamili Yoga™ Community Leader training is an online intensive program that combines both self-paced study and interactive group guidance to teach inner mastery of Kamili Yoga™. Centered on and exclusively serving people of Black identity and indigenous African ancestry, the Afrocentric curriculum goes into detail on the structure and practice of the Kamili Yoga™ system. In addition, students will explore the historical and cultural foundations of Yoga, universal principles and various forms of African spirituality, techniques for meditation, breathwork, and poses, incorporating Yoga into Black liberation, and much more!
The full Kamili Yoga™ Community Leader program consists of 12 modules and will take a minimum of one year to complete. A module is released every 30 days (approximately once a month) and must be done in specific order. Each module includes multiple units of in-depth lectures, accountability and growth assignments, and graded review quizzes. Toward the end of training, students will have practicum work that prepares them for teaching Kamili Yoga™ in their communities by putting their studies and knowledge into action!
* * *
MODULE 01:
The Foundations of Kamili Yoga™
MODULE 02:
African Traditions of the Continent & Diaspora
MODULE 03:
Examining Pre-Colonial Indian Yoga Systems
MODULE 04:
Embracing Mindfulness & Meditation
MODULE 05:
Fundamentals of Poses and Breathwork
MODULE 06:
Engaging in Energy Work
MODULE 07:
Developing Your Ibada Kamili Practice
MODULE 08:
The Power of Yoga in Black Liberation
MODULE 09:
Practicum - Research Paper & Recorded Lecture
MODULE 10:
Foundations for a Successful Wellness Business
MODULE 11:
Developing Your Kamili Yoga™ Teachings
MODULE 12:
Practicum - Live Kamili Yoga™ Classes / Workshop Series
* * *

Please note that the certification program is not associated with Yoga Alliance or any other Yoga registry at this time. Those who complete the program will not be able to use the "RYT" credential (it is a registered trademark of the Yoga Alliance), but instead can use "CYT" as an abbreviation for "Certified Yoga Teacher."

Immediate Access Upon Enrollment: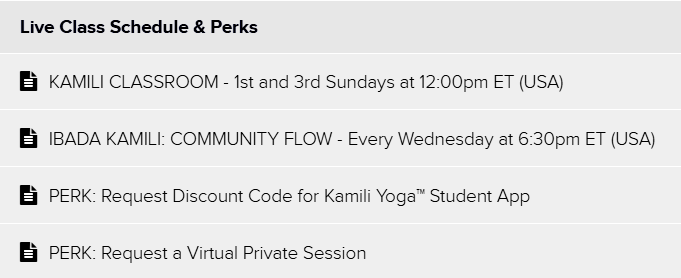 ---
Students in the Kamili Yoga™ Community Leader certification program will be required to attend at least two live Kamili Collective offerings each month. If the regularly scheduled offerings do not align with a student's availability or time zone, additional offerings will be set up to accommodate.

What Students Have to Say
---
"I am so fortunate to be a part of the Kamili Collective. I have grown so much and it has helped me with my self awareness."
- Edna L., New York, USA
---
"Through the Kamili Collective, I have been able to dive deeper into my own yoga and movement practice, while also learning more about Pan-African history and principles. In a time of chaos throughout the world, the Kamili Collective has provided me with community, and a continued sense of grounded."
- Naadiya H., Maryland, USA

---
"Since becoming a part of the Kamili Collective Yoga experience, I'm learning the differences more and more every time we meet. So far, nothing but positive & enlightening experiences. Much different from what I've experienced being in other 'mainstream' yoga classes."
- Linda P.B., South Carolina, USA
Frequently Asked Questions
Can I join the Kamili Collective if I am not Black?
The Kamili Collective and the Kamili Yoga™ Community Leader certification program are open
only
to those of Black/indigenous African ancestry. Those who are not of this identity can still learn the practice of Kamili Yoga™ by subscribing to the
Kamili Yoga™ Student App
, which is open to people of any racial and cultural background. Learn more about the app at
www.Kamili.Yoga
.
Why not? Isn't that racist?
It is not racist to have Black-centered spaces; it is racism that makes Black-centered spaces necessary.
The Kamili Collective is a safe(r) space that exclusively serves those of Black identity and of Pan-African cultural communities. It is a space to honor the specific experiences that Black people around the world have in societies riddled with anti-Blackness and oppressive systems of institutionalized racism. It is a space for both learning AND healing, and that healing would be undermined by the presence of non-Black folks.
If you are offended by this being a Black-centered healing space, you are encouraged to investigate the true source of that angst and work on putting that energy toward creating a world where spaces such as these are no longer necessary.
Is Kamili Yoga™ LGBTQIA-inclusive and affirming?
Yes! Throughout history, Black queer folx have been a cornerstone in social movements, and despite homophobia from their own people, continue to support and uplift their communities. Kamili Yoga™ honors the contributions of LGBTQIA+ Blacks and Africans to the struggles of liberation that have impacted the world, from Civil Rights organizer Bayard Rustin to Marsha P. Johnson of the Stonewall riots to co-founders of #BlackLivesMatter, Alicia Garza and Patrisse Cullors.
And just to be clear, Kamili Yoga™ is founded by a Black queer being!
I'm new to Yoga and not very flexible. Can I still join?
Not only can you join, you are
encouraged
to join! Many people have the misconception that they must be flexible to do Yoga poses. But it is the opposite; doing Yoga poses is what helps you become flexible!
But more important than Yoga poses is Yoga philosophy. Physical motion is just a small piece of Kamili Yoga™, and there is much more to learn on this journey of wellness and union. As a Kamili Yoga™ student, you will learn how to nurture not just the body, but also the heart, mind, and spirit.
What is the refund policy? Can I change payment plans?
There are
no refunds
on any membership payments. For older monthly plans that are not lifetime membership investments (these plans are no longer available) you can cancel your membership at any time. Simply make adjustments in your account profile settings under "Manage Subscriptions." When you cancel your membership, you will still have access to the lessons and courses until the last day of your current cycle.
For lifetime membership payment plans, once you make your selection, you are locked in to that plan until it is completed, so please choose wisely!
The price is a bit high for me right now. Is there a lower cost option to study Kamili Yoga™?
It is understandable that membership to the Kamili Collective may be inaccessible to some. A lower cost option is to subscribe to the
Kamili Yoga™ Student App
. This app provides teachings about Kamili Yoga™ and allows students to become dedicated practitioners through self-paced individual study at an affordable monthly price. You can subscribe at
www.Kamili.Yoga
.
I have additional questions. How can I contact you?
For more information,
click here to send a message
(your email program/app should open up automatically). I will respond to you at my earliest opportunity!